HOME
videos
1920s
&nbsp
Blasting at West India Docks
Massive stone-work splinters to fragments as gelignite blasts a way for new walls.
&nbsp
1930s
&nbsp
PLA Swimming Gala
1933 PLA Swimming Club gala in Millwall Cutting.
St. Hubert's House Opening
St. Hubert's House is officially opened by the Duchess of York in 1935
Dockland Settlement
A 1935 film about the Dockland Settlement in East Ferry Rd.
&nbsp
1940s
&nbsp
Mudchute Anti-Aircraft Gun
Extract of 1940 film produced by Shell Film Unit, "Transfer of Skill", describing creation of anti-aircraft shell fuses and showing firing of gun.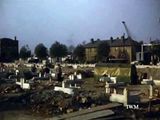 London Builds Again
Colour film showing the construction of Orlit housing in post-war London, including extensive scenes filmed in Billson St.
Opening of Rawalpindi House
Official opening of Rawalpindi House in 1948 by Charles Key, Minister of Works.
Dock Tour
Several shots of the Crested Eagle paddle-steamer passing under Tower Bridge and sailing down the Thames, past the Isle of Dogs, with a group of kids on board.
&nbsp
1950s
&nbsp
Antartic Expedition
Millwall Docks, London. CU. Stern of ship showing name 'Theron - Halifax'. Dunbar House in view.
&nbsp
1960s
&nbsp
&nbsp
1970s
&nbsp
&nbsp
1980s
&nbsp
&nbsp
1990s
&nbsp
&nbsp
2000s
&nbsp